Why Don't You Get a Real Job?
2nd Oct 2020
I've completed my memoir, Why Don't You Get a Real Job? …
The memoir's title comes not from what someone actually asked but from something else my mother often said, that "writers and artists have more meal times than meals".
I became both.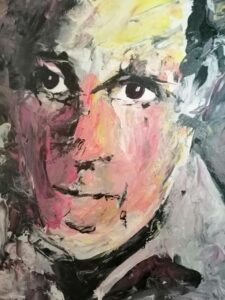 The painting was mainly a hobby, but I won a couple of prizes, sold a few and had one commissioned. For the past forty years I have mostly made a living as a writer, something poor old Mum would have had trouble fathoming. I'm sure she thought my wife was the breadwinner and that my university Arts degree didn't even result in my asking, "Do you want fries with that?" let alone where it was meant to take me, teaching secondary school English and History.
She must have been really confused when my name popped up in the credits of television situation comedies, especially ones she considered rather rude or silly.
My formative years were spent growing up in the NSW town of Gundagai and, at age eleven, I was sent to boarding school in Sydney. Academically, the education was, at best, adequate, but it was fun, and the legacy I treasure is the friends I still have to this day.
The book has a stream of consciousness that travels from growing up in the bush, to boarding school in the city, to university, to various jobs (taxation clerk, short-order cook, wooden toy manufacturer, septic tank cleaner) to a long and varied career writing comedy, to opening a travel agency, to living with MS and becoming a writer again.
There are some 50 chapters in total (each a self-contained short story within the longer narrative). Each chapter begins with 'The Day' and chapters include The Day I Met a Murderer, The Day My Father Died, The Day I Whacked a Prime Minister, The Day I Saw My First Nudie-Boobs and The Day I Met Bugs Bunny…
The memoir was mainly written to give our two children stories of what happened in my life before they came along. And the combination of writing the memoir and making short films has led to my MSing About website/videos/podcasts project.
Posted by ianhey under
Memoir
|
Permalink
|
No Comments »