The Queen and Me
15th Sep 2022
Queen Elizabeth first came to Australia the same year I did. I was born in 1954, the year the young monarch turned 28. Sir Robert Menzies was Prime Minister. She would see 16 Australian Prime Ministers, 14 American Presidents, and 15 British Prime Ministers in her lifetime. She swore the last British one into office 48 hours before she died aged 96.
There was certainly no republican movement back in 1954. Everyone was a monarchist without even thinking about it. She was our Head of State and part of the furniture.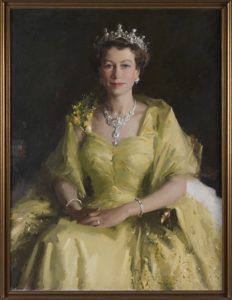 In my primary school classrooms, the young queen took pride of place, framed and wearing a tiara and delightful lemon frock, to the left of the blackboard which was, of course, green. The portrait above was by William Dargie in 1954 and is known as The Wattle Painting. In secondary school she was a little older and wearing a tiara and a blue sash but still framed and taking pride of place to the left of the assembly hall stage. In that hall we not only sang God Save the Queen but also stirring British numbers like Land of Hope and Glory…
Land of hope and glory
Mother of the free
How shall we extol thee
Who are born of thee
And Rule Britannia…
Rule Britannia, Britannia rules the waves
Britons never, never shall be slaves!
And the anthem was everywhere…
God save our gracious queen
Long live our noble queen
God save the queen
Send her victorious
Happy and glorious
Long to reign over us
God save the queen
That anthem was part of my life for my first 30 years. It took until 1984 for us to get Advance Australia Fair! When I was a kid, we stood for God Save the Queen at school assemblies, sporting events, and even before movies at the cinema.
Imagine if we still had it! At the last Commonwealth Games, we won 67 gold medals and England won 57. That would have seen God Save the Queen trundled out 124 times meaning anyone with a guide dog would have no idea who won.
Let's go back to 1954. My father was the Shire Clerk in Gundagai – and he was invited to a Royal reception in nearby Wagga Wagga. The Royal Calligrapher would have had writer's cramp and a lot of overtime because every invitation was personalised in beautiful cursive script inside a card that had a portrait of Her Majesty on the front.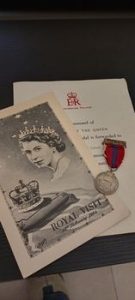 It reads…
CITY OF WAGGA WAGGA
ROYAL VISIT
Saturday 13th February 1954
admit the Bearer
Mr and Mrs H.N. Heydon
To Special Enclosure to view the
CIVIC RECEPTION
to
Her Gracious Majesty
QUEEN ELIZABETH II
and
His Royal Highness
THE DUKE OF EDINBURGH
at 1:24p.m.
INVITEES TO BE SEATED NO LATER THAN 12:45p.m.
This Entrée card to be exhibited as required to Police and Officials on duty and may be retained as a souvenir of the occasion.
This Entrée Card is not transferable
There was also a typed decree on Buckingham Palace letterhead to wear a special commemorative medal, which read…
By Command of
HER MAJESTY THE QUEEN
The accompanying Medal is forwarded to
HAROLD NORMAN HEYDON
To be worn in commemoration of
Her Majesty's Coronation
2nd June, 1953
The meda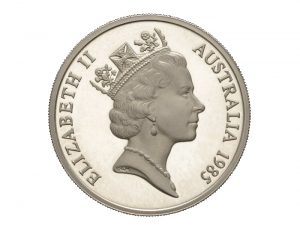 l came in an ornate little box with the royal insignia and has Her Majesty on the obverse and insignia on the reverse with words…
QUEEN ELIZABETH II CROWNED 2nd JUNE 1953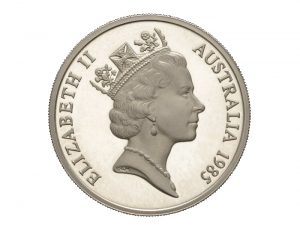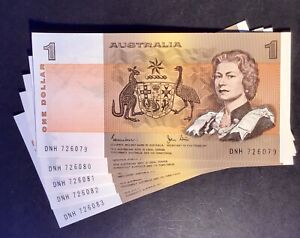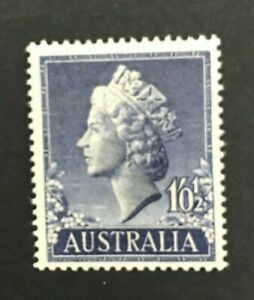 As well as adorning the walls of every school across the country, Lilibet (as she pronounced Elizabeth as a child) was on coins, notes, postage stamps, and even on an ashtray that sat proudly in our lounge room. Not that my parents smoked. That was for guests to show that this was 'Our Royal Family'.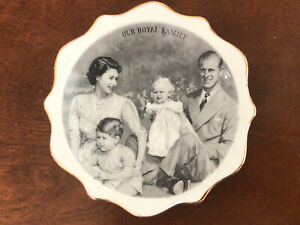 No one saw the irony in stubbing out a cigarette butt on Elizabeth, Phillip and the cute little kiddies, Charles and Anne who look about ages 4 and 2.
The royal entourage crisscrossed the country in the 58-day visit, allowing 75% of the population to line the streets for a glimpse of the first reigning monarch to visit their country. A State Banquet was held in her honour in The Great Restaurant in Sydney. Even though it was on the seventh floor of David Jones department store it was by far and away the city's poshest restaurant for many years. As a schoolboy, my Great-Aunt Laura would invite me to join her for lunch. She introduced me to my first prawns and oysters and the first restaurant that had starched white tablecloths, waiters in bowties and a confusing array of shiny silver cutlery. Incidentally, the nine-piece setting used by Queen Elizabeth in 1954 is on display at Sydney's Powerhouse Museum. Two knives, three forks, three spoons and a teaspoon. You try and guess what was on the menu. I'm going for soup, entrée, main, dessert and tea/coffee but I still have one spoon too many!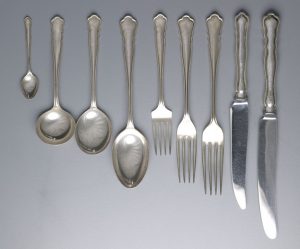 Her Majesty visited Australia 16 times. The second was in 1963 and she visited a mate's parents' cattle station in the Northern Territory. The taxpayers paid for Bill and Dawn Prior's first indoor toilet, just in case Her Royal Highness was caught short and needed a throne for a mo. It wouldn't have been right to hand her a shovel in case a snake had made the outdoor dunny home. Yep, outside toilets were part of those so-called good old days. The choko vines and redback spiders had to grow somewhere.
My mate, Dave Prior, grew up on Hamilton Downs. He was taught by a governess and The School of the Air. All his mates were the kids of indigenous workers so, in 1963, Dave was nine years old and spoke with an Aboriginal accent. Because he was white skinned, however, he was given the honour of presenting Her Royal Highness with some ornate boomerangs. Liz was busy talking with one of the adults and little Dave was sick of waiting for his designated moment. He tugged on the royal skirt. She turned and looked down to see Dave…
"Here you go Misis, some boomerangs the blackfellas made for your kids."
Dave's father was also a naughty boy. While security guards, itinerary timekeepers and the queen waited patiently, Bill and Prince Phillip enjoyed a few whiskies and a chat in Bill's study.
Sir Robert Menzies was quite besotted by the Queen. On that 1963 visit he welcomed her publicly saying, "I did but see her passing by, yet I will love her till I die.". Decimal currency was on its way and Menzies didn't want to call the new currency the dollar, he wanted it to be the Royal. 1963 was the year Menzies was knighted (Order of the Thistle) and in 1965 he was appointed Constable of Dover Castle and Lord Waren of the Cinque Ports. He was bookended in this position by Sir Winston Churchill and The Queen Mother, something that would have made him particularly chuffed.
On my first visit to London, I did the touristy thing of walking from Trafalgar Square, through Admiralty Arch and down The Mall to Buckingham Palace to see the Changing of the Guard. For some reason I was quite taken by the Victoria Memorial statue out the front in the middle of a roundabout. The Australia Gate and Canada Gate are two Dominion Gates that mark formal entrances to the palace grounds.
The sculpture by Sir Thomas Brock on top of the Australian plinth depicts a nude cherubic boy cuddling a kangaroo and a sheep. Made me feel quite welcome. Of course, in the 1980s when I was writing political and royal satire, the fictitious monarch lived in Buckinghuge Palace.
On a subsequent visit to London, in 1978, I became friends with a policeman whose duty occasionally entailed going to the rear of the palace to collect Prince Phillip and escort him, incognito, to Gentlemen's Clubs, with his wife's blessing of course.
On her many visits to Australia, Queen Elizabeth opened many things like children's hospitals, new Parliament House and the Sydney Opera House. Naturally, plaques were made to mark these occasions. Australians are good at plaques. Here's a royal plaque most people don't know about. It is in the New South Wales country town of Yass. The year was 1981 and a week after Prince Charles proposed to Lady Diana Spencer, the future Princess of Wales visited her mother and step-father to deliver the good news. During her stay, she dropped into a pub in the main street for a quick refreshment. Very plaque-worthy! Here you go:
PRINCESS OF WALES
THIS PLAQUE COMMEMORATES THE TIME ON THE
10TH DAY OF FEBRUARY, 1981
WHEN
LADY DIANA SPENCER,
THE PRINCESS OF WALES
HONOURED THE MERINO BAR OF
THE CLUB HOTEL WITH HER CUSTOM
LICENCEE P. TRACEY
TOOTH HOTELS PTY. LTD.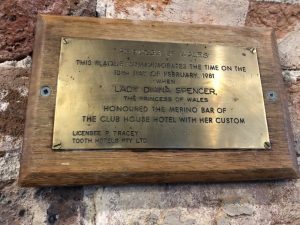 On Queen Elizabeth's third Royal visit to Australia, in 1970, I was part of the schoolboy contingent who attended St Stephens Church in Sydney for a special service attended by Her Majesty. We were given the protocol drill on how to address her in case she decided to mingle. On the first occasion, "Your Majesty" and thereafter, "Ma'am". She didn't bother to single me out for a chat. Maybe she knew how to spot a future republican.
That said, I think all republicans joined monarchists with sadness at her passing and totally respected her 70 years of service and dedication to duty. An extraordinary woman.
Posted by ianhey under
The Queen and Me
|
Permalink
|
No Comments »